It is often mistakenly believed that workplace injuries occur only in high-risk industries, such as factory work or construction. However, that is not true. The truth is every employee is vulnerable to suffering a work injury that can be serious and painful. At Boze Family Chiropractic & Wellness Center, serving Brooksville and Spring Hill, FL, our chiropractor provides natural treatments for work injuries.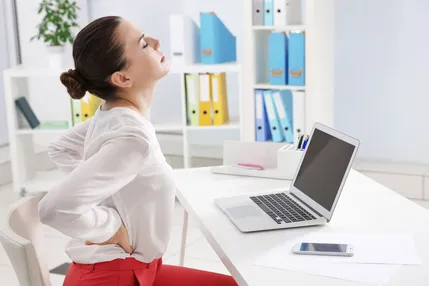 Common Work Injuries
Here are some of the most common work-related injuries:
Falls: Injuries from falls include head and brain injuries, broken bones, back injuries, and neck injuries.
Overextension: Overextension is the most common cause of work injuries that usually occur from lifting, carrying, pulling, and pushing heavy objects. Overextension often leads to strains, sprains, and different musculoskeletal disorders.
Motor vehicle accidents: People who work as drivers are exposed to inclement weather, faulty automotive equipment, and negligent drivers.
Contact with equipment and object: This type of work injury usually includes those that work in factors, with tools, or in other high-risk environments.
Poor posture: Workers who sit in one position all day long are at risk for back pain and neck pain. Slouching can also cause shoulder pain.
Repetitive motions: Jobs that require typing on a keyboard all day can lead to carpal tunnel syndrome, which causes wrist pain. Any repetitive motions can cause overuse injuries.
How Our Chiropractor Can Help
Chiropractic care is a type of treatment that focuses on decreasing pain, correcting alignment problems, and assisting the body in healing itself. Your work injury treatment will vary based on the injury. Our chiropractor may use spinal adjustments for neck, back, and shoulder pains. Our chiropractor also offers physical therapy, massage therapy, exercises, and more to help you recover from an injury. We will use a combination of different treatment methods to speed up your recovery. Our team will also guide you on how to prevent future injuries.
Visit Our Chiropractor in Brooksville and Spring Hill, FL for Work Injury Treatment
If you are experiencing signs of a work injury, don't wait to seek treatment. Your condition could worsen. At Boze Family Chiropractic & Wellness Center, serving Spring Hill and Brooksville, FL, our team can help. We provide all-natural treatment methods for a range of work injuries and other conditions. Our goal is to help you return to a healthy, pain-free life. We are happy to answer any questions you have. Call us today to schedule an appointment.